Research Park sits amid a connected network of Utah Transit Authority (UTA) buses and trains. Research Park can be reached by transit from nearly every corner of the Wasatch Front, often on a direct service.
Benefits of riding transit include a more relaxed ride to work; potential cost savings; greatly reducing pollution and improving air quality; and more exercise walking or bicycling to and from your bus stop or train station.
UTA TRAX
---
TRAX is UTA's light rail service. The TRAX Red Line provides a direct connection to central Salt Lake City, downtown Salt Lake City, South Salt Lake, central valley communities of Murray and Midvale, and to the southwest part of the valley to West Jordan, South Jordan, and Daybreak.
The Red Line also provides a connection to transfer to other TRAX lines reaching nearly all corners of Salt Lake Valley.
While there is not a TRAX station in Research Park, the park lies just to the south of three TRAX Red Line stations which may be the most convenient depending on your origin/destination.
The South Campus station is accessible from the west end of the park via Foothill Drive. This station has a major barrier in its lack of a sidewalk on the east side of Foothill Drive and marked pedestrian crossing of Mario Capecchi Drive.
The Fort Douglas station and the University Medical Center station are more accessible from the eastern end of Research Park via Connor Road and Fort Douglas. While the Medical Center station is farther, the route to the station is flatter and, in some ways, easier on a bicycle. The Fort Douglas station access benefits from the pedestrian/bicycle Legacy Bridge over Mario Capecchi Drive and path through the Fort Douglas area.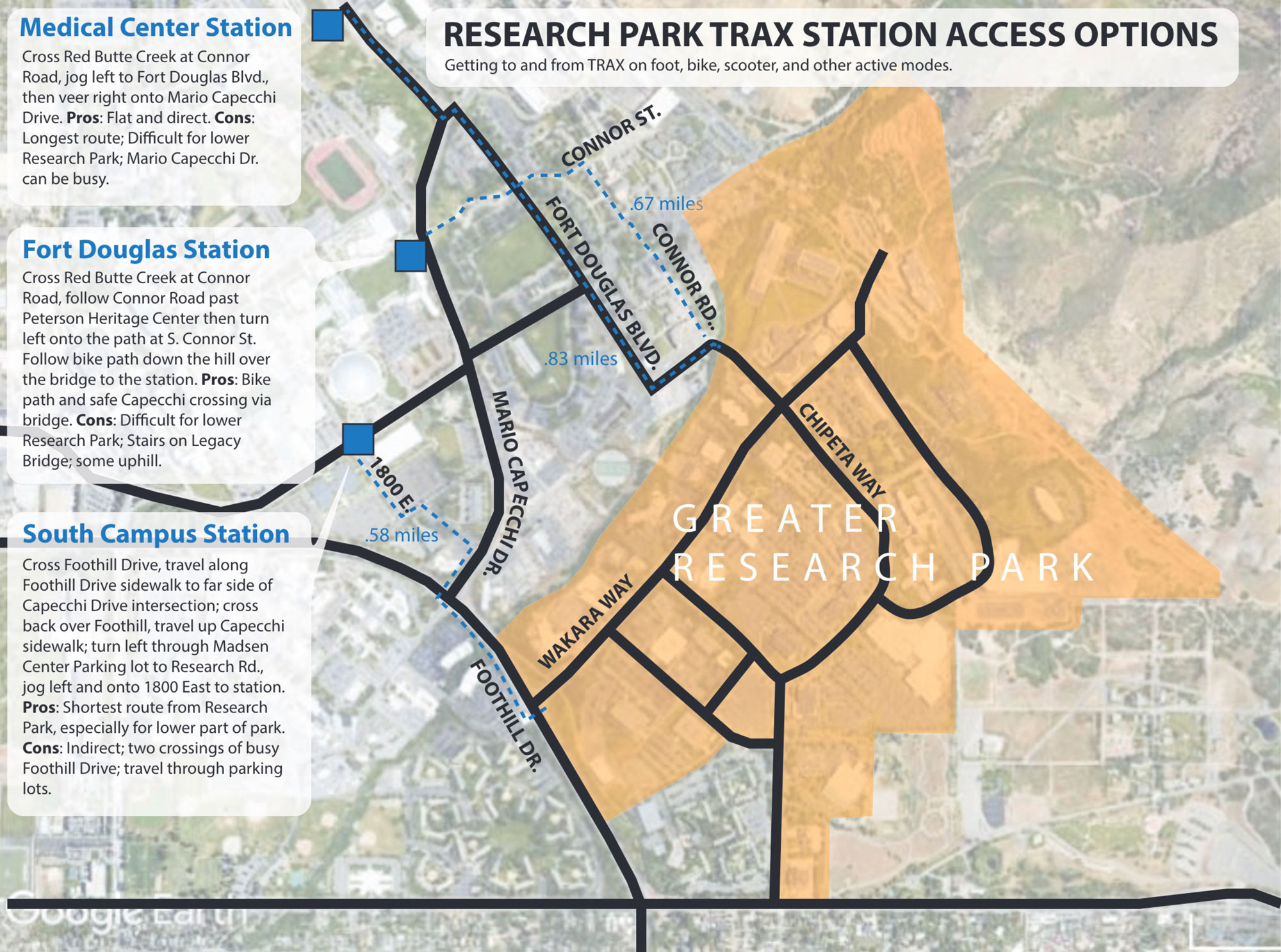 UTA BUS
---
UTA provides several bus services connecting Research Park and the Wasatch Front. Bus routes reach three key areas of the region – Salt Lake City, the eastern Salt Lake Valley, and Davis and Weber County north of Salt Lake City.
Find the UTA stops and route information in the interactive campus map.
Route 21
Route 21 is a frequent (15 minute) all-day route serving the East Bench and Sugar House, terminating at TRAX Central Pointe Station.
Route 3
Route 3 is an all-day route serving the U of U Main Campus, the Avenues, and Downtown Salt Lake City.
Route 4
Route 4 is an all-day route linking Downtown Salt Lake City, west side and central Salt Lake neighborhoods with Millcreek's 3900 South Transit Center, via the University and Foothill Drive.
Route 455
Route 455 is an all-day route linking Research Park with downtown Salt Lake City, Davis County, Weber County, and Ogden and Weber State University.
Route 473
Route 473 is a peak period route linking Research Park with downtown Salt Lake City and select Davis and Weber County stops, terminating at Ogden Station.
East Side of Salt Lake Valley
Route 223
Route 223 is an all-day route linking the greater University area with Salt Lake City's East Bench, Millcreek, Holladay, and Cottonwood Heights. Route 223 also connects Research Park to the University Medical Center.
Route 313
Route 313 is a peak period route that links the University Medical Center, University Main Campus, and Research Park with Sandy, via 1300 East and other east Salt Lake Valley communities.
UTA FARES & PASSES
---
As a UTA rider, you have a range of options in how to pay for transit.
Farepay card
The FAREPAY card is prepaid and reloadable FAREPAY card. Riders load money to a FAREPAY card, tap it on a card reader, and ride UTA. FAREPAY card holders save 40 percent off local bus fare and 20 percent off TRAX, S-Line and up to 20 percent off FrontRunner and Express Bus fares. Ski, Park City Connect and Paratransit services are not included in this discount.
UTA GoRide
UTA offers a mobile ticketing app called GoRide. Available tickets include FrontRunner, TRAX, Streetcar, local bus, PC-SLC Connect, and ski bus.
Monthly passes
There are a variety of monthly pass options, including the Adult Monthly Pass, the Senior Reduced Fare Monthly Pass, and Disabled Reduced Fare Monthly Pass.
For University employees and students
The University of Utah has an agreement with UTA that provides our students, faculty and staff access to TRAX, UTA buses and Frontrunner trains. In order to be eligible for this benefit, you must have a valid University of Utah ID Card; and, be a current employee of the University, or a matriculating student who has paid tuition and associated student fees for the current semester.
For Salt Lake City residents: the Hive Pass
Hive Pass is a program for Salt Lake City residents that offers a discounted monthly transit pass.
HIVE PASS INFO
Tracking your bus or train
Several smartphone apps allow you to track the real-time locations of transit vehicles.
Company UTA pass programs
Some companies have initiated transit pass programs. Ask your human resources department about your organization's options.
Guaranteed ride home
UTA offers a Guaranteed Ride Home program for pass holders. If you have an emergency and need to leave when UTA is not operating, UTA will arrange for alternative transportation for you. Contact UTA for more details.
SHUTTLES
---
Shuttles support those traveling without a private vehicle, by providing the last leg of a transit trip or transportation to a destination in the middle of the work day.
Research Park is served by several University of Utah shuttle routes, including the Green, Purple, and Night routes as well as the Hospital On-Demand shuttle. These shuttles connect you with the greater University. Find the real time locations of the shuttles on the interactive campus map.
In addition, the Hospital On-Demand Shuttle provides service between Research Park and the University Medical Center: On Demand Shuttle Info (PDF)
TRACKING YOUR SHUTTLE
Smartphone apps allow you to track the real-time locations of shuttles:
U of U Shuttle Tracker